Our History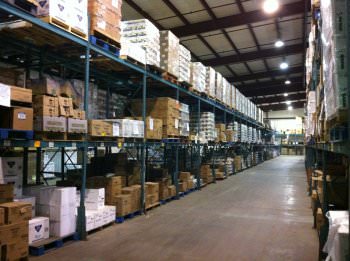 William George Company, Lufkin, TX, joined Legacy Foodservice Alliance as a Distributor Member in January 2010. Founded by William George, Sr. in 1932, the company is a full-line wholesale foodservice distributor carrying not only fresh produce, but also refrigerated, frozen, and dry products as well, including canned goods, paper products, cleaning supplies, and equipment. In the beginning, the company gathered produce orders and William would drive to the Produce Market in Dallas to pick up products in the afternoon. Making deliveries before and after school, Mr. George and his five sons, William Jr., Murphy, Jesse, Frank, and Johnny, supplied produce to their customers by the next day. Today, with customers ranging from East Texas, to parts of Louisiana, Oklahoma, and Arkansas, William George Co. currently services over 2000 customers with 16 salespeople and 20 trucks.
During the depression in the 1930's, the George family worked extremely hard just to survive. Mr. George eventually rented a room at the Ice House in Palestine to store produce. In 1948, William George, Sr. built the first warehouse facility in Palestine, which was operated by his sons, and today is managed by Frank George, Jr. The Lufkin warehouse, originally operated by Murphy George, was built in 1956.
In 1963, the Georges purchased O & S Wholesale Co. in Texarkana and later re-named it William George Produce Company. This branch was operated by long-time employee and friend, Kenneth Dukes. A new Texarkana warehouse facility was constructed in 1980. Today it is managed by Jeffrey George. A new Lufkin warehouse was constructed in 1985 and comprised approximately 90,000 square feet total with 35,000 square feet of refrigerated and freezer space. This facility is now managed by Randy George and in 1994 was expanded with the addition of 50% more dry space as well as quadrupling freezer space.
William George Co. feels their employees are a vital part of their family. Without their support, hard work, and dedication to superior customer service, the company would not have achieved the growth and success over the years to make it what it is today. William George Co. has a school foodservice consultant, which works with and advises schools on their menu and dietary programs. This department also handles all bidding for schools, state agencies, and prisons. We also have a proprietary menu program for both healthcare and correctional facilities developed by a licensed and registered dietician.
William George Co. has an annual food show which offers their customers the opportunity to see the wide variety of products currently offered. The show has grown tremendously year after year. Some suppliers refer to the show as "The Best in The Country". William George Co. is family owned and operated and believes their customers are a part of their family. They feel customers should be referred to by name and not a number. The current stockholders of the corporation are third generation Jeffrey, Randy, and Frank, Jr. with the fourth generation now joining the forces.